^zhurnaly
Howdy, pilgrim! No ads — you're in the ^zhurnal (that's Russian for "journal") — see ZhurnalyWiki for a Wiki edition of individual items; see Zhurnal and Zhurnaly for quick clues as to what this is all about; see Random for a random page. Briefly, this is the diary of ^z = Mark Zimmermann ... previous volume = 0.9913 ... complete list at bottom of page ... send comments & suggestions to "z (at) his (dot) com" ... click on a title link to go to that item in the ZhurnalyWiki where you can edit or comment on it ...

RSS
---
---
... or perhaps simply ...
... a reminder to relax and remain aware, especially when times are stressful and the tendency is to harden, push back, or otherwise resist reality ...
(cf. Softening into Experience, a quote from Phillip Moffitt's book Emotional Chaos to Clarity: How to Live More Skillfully, as well as Gentleness, Sensitivity, Compassion from Wolfe Lowenthal's There Are No Secrets, and Aikido Spirit from Greg O'Connor's The Aikido Student Handbook ...)
- Wednesday, November 26, 2014 at 04:23:16 (EST)
---
From "What Practice Is" in Charlotte Joko Beck's Everyday Zen:

... A thought in itself is just pure sensory input, an energy fragment. But we fear to see thoughts as they are.

When we label a thought, we step back from it, we remove our identification. There's a world of difference between saying, "She's impossible" and "Having a thought that she's impossible." If we persistently label any thought the emotional overly begins to drop out and we are left with an impersonal energy fragment to which we need not attach. But if we think our thoughts are real we act out of them. And if we act from such thoughts our life is muddled. Again, practice is to work with this until we know it in our bones. Practice is not about achieving a realization in our heads. It has to be our flesh, our bones, ourself. Of course, we have to have life-centered thoughts: how to follow a recipe, how to put on a roof, how to plan our vacation. But we don't need the emotionally self-centered activity that we call thinking. It really isn't thinking, it's an aberration of thinking.

- Monday, November 24, 2014 at 04:18:58 (EST)
---
~6.5 miles @ ~11.0 min/mi
Happy Halloween! Amber's 5-year-old daughter Sophie loves her witch costume so much that she doesn't take it off yesterday evening; Kerry just shakes her head thinking about the parties her teenagers may be going to tonight. We try a new route, reversing the Kirby-Birch-Old Chesterbrook loop of a fortnight ago. A magnificent skeleton display distracts us and we miss a turn, adding a few bonus blocks. I start off too fast, which perhaps provokes a side-stitch cramp for one of us, who tries to send the others on ahead. No way: "We started as a unit and we'll finish as a unit!" Five flashlights prove to be ample for three trekkers on this last weekday of Daylight Saving Time. I pause to take photos of the "screaming eagle" house on Birch. From Runkeeper rough splits are 10.2 + 9.3 (sorry, my bad!) + 11.1 + 13.4 + 10.2 + 11.4 + final half mile at 11.1 min/mi pace, including the 50 foot walk after I tag Kerry's car that makes "6.49" roll over to "6.50" miles.
- Sunday, November 23, 2014 at 21:18:15 (EST)
---
... from a visit to my Father's farm on road FM 609 near La Grange, Texas ...
- Saturday, November 22, 2014 at 06:20:46 (EST)
---
7.4 miles @ ~10.4 min/mi
"We beat the sun!" Kerry observes, as we close the loop and approach our starting point. Clouds are just tinging lavender-pink in the east. Our route is the same as three weeks ago, 2014-10-08 - Lunar Eclipse on the WOD, but the pace is ~30 s/mi faster. A big bunny rabbit eyes us when we pause at the water fountain. Kerry's son Fletcher, a high school senior, has received another acceptance letter from a college — yay! Runkeeper captures path and pace.
- Friday, November 21, 2014 at 04:46:11 (EST)
---
~18.8 miles @ ~11.2 min/mi
"Grammar Police! Pull over!" I order Santa Steve, whose shirt reads, "Yep. It's really him." He and Joyce are out for a final run before their Marine Corps Marathon attempt tomorrow. I'm doing 10+ miles with Gayatri Datta, talking about the VHTRC Potomac Heritage 50k on 2 Nov. It's a clear cool day, and for most of it my hands stay retracted inside long sleeves.
At 0615 I set out from home, testing the cyclist backpack that my brother Keith gave me. It feels great, with bladder removed and a water bottle in one zippered pouch, a Snickers candy bar in the other. Without a headlamp I trot cautiously for the first few miles. A red light in front of me on the CCT turns into a lady whom I almost collide with when she abruptly turns back at Connecticut Av. Dog-walkers and joggers are shadowy silhouettes except when they pass under streetlights.
At the downtown Bethesda meet-up in front of Barnes & Noble a flock of MCRRC XMP trainees gather. I pause the GPS until Gayatri arrives, and then we set out southward. At Fletchers Boathouse I buy a bottle of Gatorade and gulp it all down. The final four solo miles home feel good.
A sudden awakening: this isn't about "training" for some future run, and it's not about "cashing in" past investments in building speed and endurance — it's simply now, today's happy moments. Whee! Runkeeper records route.
- Thursday, November 20, 2014 at 04:10:19 (EST)
---
From the end of Chapter 30 of A Thousand Names for Joy by Byron Katie:

... You can't free yourself by finding a so-called enlightened state outside your own mind. When you question what you believe, you eventually come to see that you are the enlightenment you've been seeking. Until you can love what is—everything, including the apparent violence and craziness—you're separate from the world, and you'll see it as dangerous and frightening. I invite everyone to put these fearful thoughts on paper, question them, and set themselves free. When mind is not at war with itself, there's no separation in it. I'm sixty-three years old and unlimited. If I had a name, it would be Service. If I had a name, it would be Gratitude.

You may find that you don't need to navigate a future at all—that what appears now is all you've got, and even this is always immediately gone. And when you've stopped making war with reality, you are what changes, totally without control. That state of constant change is creation without limits—efficient, free, and beautiful beyond description.

- Wednesday, November 19, 2014 at 04:39:34 (EST)
---
~3.5 miles @ ~15.8 min/mi
We are the walking wounded: Kerry's back is troublesome after her workouts pumping iron on Saturday and Sunday, Kristin's hip (psoas? flexor?) hurts since last week, and my cold has me sniffling and achy. So under the circumstances we're sensible: run two miles to warm up, admire an old crescent moon and crisp stars, observe the lights at McLean HS track, give thanks that we can enjoy being here without judgment or expectation, share stories of family events from the past weekend — and when things still feel crummy, walk back. With temps in the low 40s, a hot shower feels good! Runkeeper tells the tale.
- Tuesday, November 18, 2014 at 05:33:31 (EST)
---
- Monday, November 17, 2014 at 04:10:04 (EST)
---
~8 miles @ ~9.5 min/mi
When the ugly head cold that hits yesterday doesn't flee upon attack last night by veggie hot-and-sour soup plus General Tso's pseudo-chicken, it's double-down time: a brisk afternoon dash to blow dust out of the pipes! Speed north along Georgia Ave to Wheaton, cut through a corner of the park, then pause the GPS at New Place for a glass of ice water and a pinch of salt thanks to kind DS1. Ramble back via neighborhood streets, with a bit of natural-surface trail in the stream valley behind Flora Singer Elementary School. Admire Halloween decorations taking shape in front yards along the way. Runkeeper record shows consistent splits, 9:03-9:45 min/mi range.
- Sunday, November 16, 2014 at 14:56:20 (EST)
---
From the chapter "On the Marsh" in Winter's Tale by Mark Helprin:

But something had changed, or was changing. Everything always did, no matter how much he loved what he had. The only redemption would be if all the tumbling and rearrangement were to mean something. But he was aware of no pattern. If there were one great equality, one fine universal balance that he could understand, then he would know that there were others, and that someday the curtain of the world would lift onto a sunny springlike stillness and reveal that nothing—nothing—had been for nought, neither the suffering of all the children that he had seen suffering, nor the agony of the child in the hallway, nor love that ends in death: nothing. He doubted that he would have a hint of any greater purpose, and did not ever expect to see the one instant of unambiguous justice that legend said would make the cloud wall gold.

- Friday, November 14, 2014 at 05:45:38 (EST)
---
~13 mies @ ~11.3 min/mi
"Who the #%*% plans this $@%#?" shouts a pick-up truck driver stuck in traffic near the Baltimore Marathon route. DD has an audition in downtown Charm City, so I undertake a random-walk down to the harbor and around the neighborhood. As we approach our parking area near Meyerhoff Symphony hall the leader of the marathon cruises past, at his mile 25, escorted by police motorcycles
Today's trek begins by following a lady runner for a few blocks. She seems to know the neighborhood, but reverses course abruptly in what looks like a rough neighborhood. From there, it's south to the Inner Harbor, join the marathon course for a few cobblestone blocks near mile 13, take the bayside path down to Fells Point, then follow the boardwalk to Canton Waterfront Park, beyond which "it gets pretty industrial" as a fast young runner tells me.
After a loop through a Korean War Memorial I head back, pausing for photo ops on the bay, at the National Katyn Memorial, and the Washington Monument. Then pause at the car to get water, pay another $1 for two more hours of parking, and head northwest climbing toward Druid Lake. After a wrong turn I miss the chance to circle the hill, and instead loop across high bridges over I-83. My return is just in time to meet DD and head for home. Runkeeper maps the route.
- Thursday, November 13, 2014 at 04:25:47 (EST)
---
From "Practicing This Very Moment" in Charlotte Joko Beck's Everyday Zen:

Our Zen training is designed to enable us to live comfortable lives. But the only people who live comfortably are those who learn not to dream their lives away, but to be with what's right-here-now, no matter what it is: good, bad, nice, not nice, headache, being ill, being happy. It doesn't make any difference.

One mark of a mature Zen student is a sense of groundedness. When you meet one you sense it. They're with life as it's really happening, not as a fantasy version of it. And of course, the storms of life eventually hit them more lightly. If we can accept things just the way they are, we're not going to be greatly upset by anything. And if we do become upset it's over more quickly.

Let's look at the sitting process itself. What we need to do is to be with what's happening right now. You don't have to believe me; you can experiment for yourself. When I am drifting away from the present, what I do is listen to the traffic. I make sure there's nothing I miss. Nothing. I just really listen. And that's just as good as a koan, because it's what's happening this very moment. So as Zen students you have a job to do, a very important job: to bring your life out of dreamland and into the real and immense reality that it is.

The job is not easy. It takes courage. Only people who have tremendous guts can do this practice for more than a short time. But we don't do it just for ourselves. Perhaps we do at first; that's fine. But as our life gets grounded, gets real, gets basic, other people immediately sense it, and what we are begins to influence everything around us.

We are, actually, the whole universe. ...

- Wednesday, November 12, 2014 at 04:22:01 (EST)
---
~6.4 miles @ ~10.9 min/mi
Owl? Kerry and Amber shine flashlights up just in time to glimpse a huge gray shape swooping back to the trees above our heads. The eastern horizon is starting to glow as we cut through Lewinsville Park. It's crisp, clear, and calm, with temps in the low 40s. We accelerate in the home stretch as we try to get the average pace down below 11 min/mi. Yesterday Kerry's teenage son expressed disbelief that she can run a marathon. Challenge accepted! Amber is back from visiting family at the Pennsylvania farm, where a barn party was great fun. Splits by the Runkeeper GPS: 11:15 + 11:17 + 10:55 + 10:58 + 10:57 + 10:43 and final half mile at 9:22 — nice "descending" pace!
- Tuesday, November 11, 2014 at 05:46:26 (EST)
---
At the downtown Silver Spring branch of Mi Rancho, a Tex-Mex restaurant chain, glasses hang above the bar ...
- Monday, November 10, 2014 at 04:14:20 (EST)
---
~12.5 miles @ ~12 min/mi
OK, so I lied!" Kerry says, as we climb yet another ridge on the trail in Scott's Run Nature Preserve, just after she promises, "It's all downhill from here!" The sun is rising and we turn our flashlights off. Kerry knows the route well, since she walks it with her daughter many weekends. Even so, earlier in the dark we go off-course at one point as I chase white blazes. It's a lovely brisk morning. Long sleeves get rolled up and sweatshirts come off, then go back on as the wind picks up and our pace slows. We do a lap around the elementary school track to enhance the GPS map.
Today is a mini-adventure run, meant to gently taunt a colleague who isn't with us as he rests up for Sunday's marathon. "Gentlemen in England now abed / Will think themselves accursed they were not here," I quote Henry V as we start out. Conversation is beautiful and wide-ranging, including discussions of favorite childhood reading, family, health, running, statistics, weekend plans, computer hassles, architecture, and dozens of other themes.
Dog walkers are out in force, both in the park and along the sidewalks. One dog does the classic wrong-side-of-the-post leash trick on its owner, provoking chuckles. I manage not to fall into the water off concrete stepping-stones at two stream crossings. We sprint the last mile, sun in our eyes. Kurt Russell's line from Big Trouble in Little China comes to mind: "I'm just thrilled to be alive!" Runkeeper records the route, with a gap at Starbucks where we stop for iced coffee (tnx, Kerry!). An hour after the run I get an ocular migraine visual disturbance (a slowly growing blind spot) but no headache follows.
- Saturday, November 08, 2014 at 07:02:35 (EST)
---
From Chapter 30 of A Thousand Names for Joy by Byron Katie:

At forty-three, after ten years of deep depression and despair, my real life began. What I came to see was that my suffering wasn't a result of not having control; it was a result of arguing with reality. I discovered that when I believed my thoughts, I suffered, but that when I didn't believe them, I didn't suffer, and that this is true for every human being. Freedom is as simple as that. I found that suffering is optional. I found a joy within me that has never disappeared, not for a single moment. That joy is in everyone, always. When you question your mind for the love of truth, your life always becomes happier and kinder.

Inquiry helps the suffering mind move out of its arguments with reality. It helps us move into alignment with constant change. After all, the change is happening anyway, whether we like it or not. Everything changes, it seems. But when we're attached to our thoughts about how that change should look, being out of control feels uncomfortable.

Through inquiry, we enter the area where we do have control: our thinking. We question our thoughts about the ways in which the world seems to have gone crazy, for example. And we come to see that the craziness was never in the world, but in us. The world is a projection of our own thinking. When we understand our thinking, we understand the world, and we come to love it. In that, there's peace. Who would I be without the thought that the world needs improving? Happy where I am right now: the woman sitting on a chair in the sunlight. Pretty simple.

- Friday, November 07, 2014 at 04:11:09 (EST)
---
~6.4 miles @ ~12.1 min/mi
"Watch out!" Flashlight beams reveal a roadkill raccoon on the side of the street for Kerry, Kristin, and me to detour around. We're experimenting with a new loop, involving Old Chesterbrook, Birch, Kirby, and Westmoreland Rds. As usual, my distance estimate is 10-20% low. Oops! But the neighborhood is nice, though frugal on streetlights. I find a shiny 2014 Lincoln cent glittering on the asphalt.
A giant screaming eagle statue perches on top of a mansion, glowing in a spotlight. Lightning flickers low in the southwest, humidity is high, and winds gust, but heavy rains hold off. A last quarter moon peeks through, then vanishes. Near the McLean HS soccer field a rabbit scampers across our path, then pauses to eye us. Outbound we do a loop around the track, to enhance the GPS map. We take "Kerry's Cut-Through" to save a few steps on the return trip. "I like having paths named for me!" Kerry comments. We hear crickets, and during cooldown stretches Kristin notes golden treetops and pink gleams in a cloud gap. Runkeeper records route.
- Thursday, November 06, 2014 at 04:12:53 (EST)
---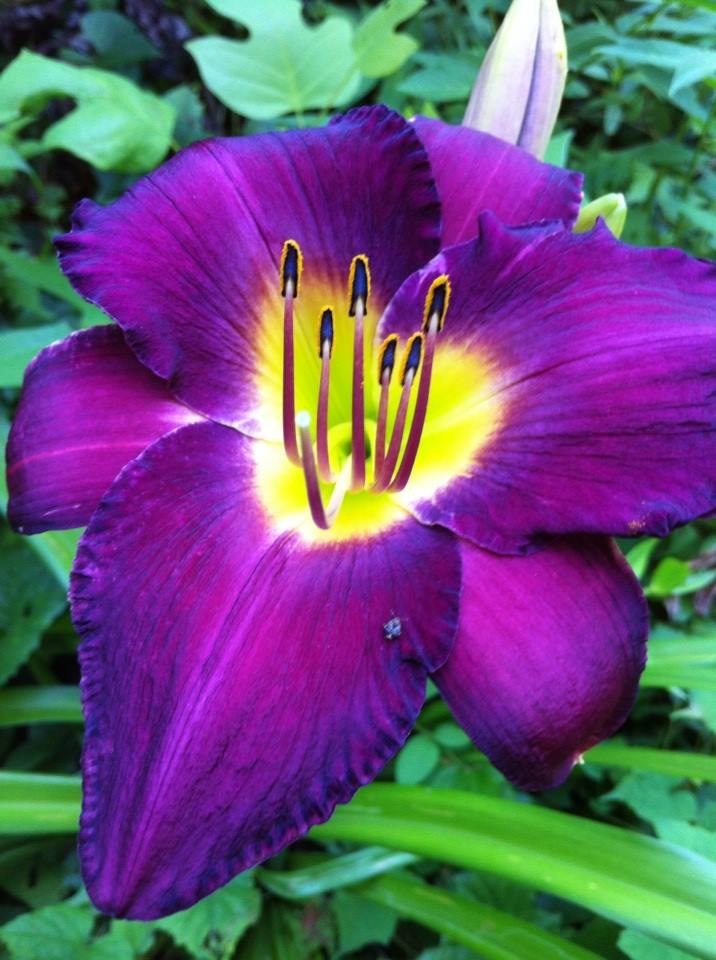 - Wednesday, November 05, 2014 at 04:36:35 (EST)
---
~10 miles @ ~11.7 min/mi
"Whoa!" Kerry dodges as the squirrel leaps past her face on its way from fence to tree. At first glimpse it looks like a low-flying hawk to her; I mistake it for a bat. Kristin, in the lead, sees it scampering toward us along the top bar of the steel railing by the path. Apparently the critter didn't notice the two of us running behind her. We take a walk break to let the adrenaline subside.
Today's pre-dawn trot along Benjamin St includes a couple of big deer feasting in a front yard. We come up with more than a dozen words for "walk" — including amble/shamble/ramble, saunter, stroll, strut, etc. My shirt comes off during the middle miles: "Don't look back!" I warn the Drs K. We debate the value of getting badges or name tags for us to show to concerned citizens, who might wonder why we're out so early. "McLean Mansion Society" loses the vote to "Neighborhood Watch". Runkeeper records our ramble.
- Tuesday, November 04, 2014 at 04:00:18 (EST)
---
From the chapter "Lake of the Coheeries" in Winter's Tale by Mark Helprin:

"Who said,"lashed out Isaac Penn, "that you, as a man, can always perceive justice? Who said that justice is what you imagine? Can you be sure that you know it when you see it, that you will live long enough to recognize the decisive thunder of its occurrence, that it can be manifest within a generation, within ten generations, within the entire span of human existence? What you are talking about is common sense, not justice. Justice is higher and not as easy to understand—until it presents itself in unmistakable splendor. The design of which I speak is far above our understanding. But we can sometimes feel its presence.

"No choreographer, no architect, engineer, or painter could plan more thoroughly and subtly. Every action and every scene has its purpose. And the less power one has, the closer he is to the great waves that sweep through all things, patiently preparing them for the approach of a future signified not by simple human equity (a child could think of that), but by luminous and surprising connections that we have not imagined, by illustrations terrifying and benevolent—a golden age that will show not what we wish, but some bare awkward truth upon which rests everything that ever was and everything that ever will be. There is justice in the world, Peter Lake, but it cannot be had without mystery. We try to bring it about without knowing exactly what it is, and only touch upon it. No matter, for all the flames and sparks of justice throughout all time reach to invigorate unseen epochs—like engines whose power glides on hidden lines to upwell against the dark in distant cities unaware."

- Monday, November 03, 2014 at 04:41:55 (EST)
---
~13 miles @ ~10.7 min/mi
In the flashlight beam, eight deer along Rock Creek; at dawn, four rabbits by the Trolley Trail on the NIH campus; as the sun rises, one more of each next to the Capital Crescent/Georgetown Branch. At 7:01am, a minute behind schedule, I meet Sam Yerkes and Gayatri Datta in downtown Bethesda. We walk back to the parking lot, Gayatri drops off extra layers, and Rebecca Rosenberg soon arrives. Near Meadowbrook Stables we see Barry Smith's eye-searing orange shirt as he awaits us. I fist-bump him in the middle of East-West Hwy, hand over escort duty, and head upstream for home.
Approximate mile splits by GPS: 10.4 + 10.9 + 11.3 + 11.4 + 9.7 + 9.2 + 13.2 (Bethesda meet-up) + 10.6 + 11.5 + 11.2 + 9.9 + 10.4 + 9.0 — as recorded by Runkeeper.
- Sunday, November 02, 2014 at 04:17:09 (EST)
---
From the chapter "Coming to Our Senses" of Charlotte Joko Beck's Nothing Special: Living Zen:

... There is a place of rest in our lives, a place where we must be if we are to function well. This place of resting—the arms of God, if you will—is simply here and now: seeing, hearing, touching, smelling, tasting our life as it is. We can even add thinking to the list, if we understand thinking as simply functional thinking rather than ego thinking based on fear and attachment. Just thinking in the functional sense includes abstract thinking, creative thinking, or planning what we have to do today. Too often, however, we add nonfunctional, ego-based thinking, which gets us in trouble and takes us from the arms of God.

A life that works rests on these six legs: the five senses plus functional thought. When our lives rest on these six supports, no problem or upset can reach us.

It's one thing to hear a dharma talk on these truths, however, and another to live by them. The minute something upsets us, we fly into our heads and try to figure it out. We try to regain our safety by thinking. We ask how we can change ourselves or something outside ourselves—and we're lost. To reestablish our lives on a secure foundation, we have to return to these six legs of reality, over and over and over again. That's all the practice we need. If I have the faintest thought of irritability about anybody, the first thing I do is not to begin figuring out in my mind how to fix the situation, but simply to ask myself, "Can I really hear the cars in the alley?" When we fully establish one sense, such as hearing, we establish them all, since all are functioning in the present moment. Once we reestablish awareness, we see what to do about the situation. Action that arises out of awakened experience is nearly always satisfactory. It works.

(cf. Two Kinds of Thoughts (2014-09-10), ...)
- Saturday, November 01, 2014 at 05:03:43 (EDT)
---
---
For back issues of the ^zhurnal see Volumes v.01 (April-May 1999), v.02 (May-July 1999), v.03 (July-September 1999), v.04 (September-November 1999), v.05 (November 1999 - January 2000), v.06 (January-March 2000), v.07 (March-May 2000), v.08 (May-June 2000), v.09 (June-July 2000), v.10 (August-October 2000), v.11 (October-December 2000), v.12 (December 2000 - February 2001), v.13 (February-April 2001), v.14 (April-June 2001), 0.15 (June-August 2001), 0.16 (August-September 2001), 0.17 (September-November 2001), 0.18 (November-December 2001), 0.19 (December 2001 - February 2002), 0.20 (February-April 2002), 0.21 (April-May 2002), 0.22 (May-July 2002), 0.23 (July-September 2002), 0.24 (September-October 2002), 0.25 (October-November 2002), 0.26 (November 2002 - January 2003), 0.27 (January-February 2003), 0.28 (February-April 2003), 0.29 (April-June 2003), 0.30 (June-July 2003), 0.31 (July-September 2003), 0.32 (September-October 2003), 0.33 (October-November 2003), 0.34 (November 2003 - January 2004), 0.35 (January-February 2004), 0.36 (February-March 2004), 0.37 (March-April 2004), 0.38 (April-June 2004), 0.39 (June-July 2004), 0.40 (July-August 2004), 0.41 (August-September 2004), 0.42 (September-November 2004), 0.43 (November-December 2004), 0.44 (December 2004 - February 2005), 0.45 (February-March 2005), 0.46 (March-May 2005), 0.47 (May-June 2005), 0.48 (June-August 2005), 0.49 (August-September 2005), 0.50 (September-November 2005), 0.51 (November 2005 - January 2006), 0.52 (January-February 2006), 0.53 (February-April 2006), 0.54 (April-June 2006), 0.55 (June-July 2006), 0.56 (July-September 2006), 0.57 (September-November 2006), 0.58 (November-December 2006), 0.59 (December 2006 - February 2007), 0.60 (February-May 2007), 0.61 (April-May 2007), 0.62 (May-July 2007), 0.63 (July-September 2007), 0.64 (September-November 2007), 0.65 (November 2007 - January 2008), 0.66 (January-March 2008), 0.67 (March-April 2008), 0.68 (April-June 2008), 0.69 (July-August 2008), 0.70 (August-September 2008), 0.71 (September-October 2008), 0.72 (October-November 2008), 0.73 (November 2008 - January 2009), 0.74 (January-February 2009), 0.75 (February-April 2009), 0.76 (April-June 2009), 0.77 (June-August 2009), 0.78 (August-September 2009), 0.79 (September-November 2009), 0.80 (November-December 2009), 0.81 (December 2009 - February 2010), 0.82 (February-April 2010), 0.83 (April-May 2010), 0.84 (May-July 2010), 0.85 (July-September 2010), 0.86 (September-October 2010), 0.87 (October-December 2010), 0.88 (December 2010 - February 2011), 0.89 (February-April 2011), 0.90 (April-June 2011), 0.91 (June-August 2011), 0.92 (August-October 2011), 0.93 (October-December 2011), 0.94 (December 2011-January 2012), 0.95 (January-March 2012), 0.96 (March-April 2012), 0.97 (April-June 2012), 0.98 (June-September 2012), 0.99 (September-November 2012), 0.9901 (November-December 2012), 0.9902 (December 2012-February 2013), 0.9903 (February-March 2013), 0.9904 (March-May 2013), 0.9905 (May-July 2013), 0.9906 (July-September 2013), 0.9907 (September-October 2013), 0.9908 (October-December 2013), 0.9909 (December 2013-February 2014), 0.9910 (February-May 2014), 0.9911 (May-July 2014), 0.9912 (July-August 2014), 0.9913 (August-October 2014), ... Current Volume. Send comments and suggestions to z (at) his.com. Thank you! (Copyright © 1999-2014 by Mark Zimmermann.)
---